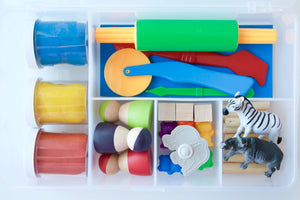 Introducing our Toddler Friendly Kit! As the concerned parents that you are, many have voiced a desire for a kit that is free of choking hazards, and I think I can safely say that we've delivered! Full of bright colours, chunky pieces, natural wood, and a fun zoo theme, you now have a resource to introduce the fun sensory world of playdough at even a younger age. ⁠

Though we strongly recommend parental supervision for any playdough activity for a child under three, this kit will hopefully give you ease of mind for an earlier introduction. ⁠

As with anything, bear in mind that YOU are the parent and know your child best. There may be a couple pieces in here that you will want to introduce a few months down the road depending on your child's maturity level. If poking and stabbing is an issue for your child, maybe wait a bit on the green playdough tool. If mouthing is still a preferred means of exploration, the mega counting bears may or may not be quite appropriate. There is so much to choose from though, and adding additional pieces later on down the road may be the best thing to keep your little one newly engaged!⁠
This kit includes:
3 

jars

 (

15

-oz)

of handcrafted, scented playdough
4 Playdough Tools
2 Zoo animals (kinds will vary)

1 Zoo dough stamper (animals will vary)

3 Painted Wood Mega Peg People

Wooden Blocks and Logs

5 Mega Counting Bears

Special Instructions:
Store playdough in a cool, dark place for months of enjoyment!

If the playdough starts to form salt crystals or dry out, simply knead in a few drops of water or vegetable oil. 
Play with often for the softest, longest-lasting dough! 
Kits may vary slightly in colour and selection and may not always exactly match the picture.