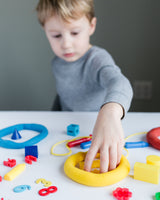 Benefits of Sensory Play
Sensory play is a buzzword in the education world these days, and for many good reasons. More than any other type, learning that engages the five senses increases the likelihood that concepts learned will "stick".
Earn an hour of quiet time while your children engage with something that promotes learning and creativity while stimulating their imagination. As your children explore the scents, textures, and small-world play our kits offer, brew yourself that cup of coffee or tea you've been waiting for, or maybe instead, scoot up a chair alongside them and discover why playdough is such a timeless activity for children as well as the young at heart. 
Read more about the careful intention behind our kits and the ways they can benefit your child. 
The Five Senses and Our Kits
My 7-year-old daughter is a thrilled owner of the Fairy Garden Kit. She loves all the detailed additions to the set. All the loose parts provide hours of imaginative play! The quality of the the play dough is amazing as well. We can't wait to get more! 

Joni
My daughter received a Doughnique playdough kit for her birthday and out of all her presents, it has been her favourite! The dough is so soft and the accessories are very creatively put together.

Luise
Playdough kits are an excellent teaching tool for sensory play and drawing out your kid's creative side. These adorable sets also make the perfect birthday gift for any youngster!

Taylor