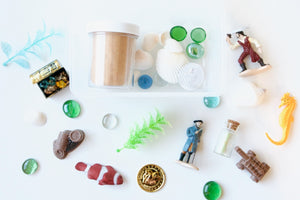 This vibrantly coloured playdough kit captures the mystery and danger of a deep sea pirate adventure. Ocean creatures, pirates, a treasure chest, shells, and so much more you would find in the ocean will draw out your child's imagination to the fullest!

This kit includes:

8-oz 

of handcrafted, scented playdough
3 Sea Animal Figurines
3 Safari Ltd. Pirate Figurines 
Treasure Chest filled with gold and message bottle
Assorted Loose Parts - gems, rocks, seaweed, coins, shells, etc 
Special Instructions:
Store playdough in a cool, dark place for months of enjoyment!

If the playdough starts to form salt crystals or dry out, simply knead in a few drops of water or vegetable oil. 
Play with often for the softest, longest-lasting dough! 
Kits may vary slightly in colour and selection and may not always exactly match the picture. 
Due to choking hazard, this kit is not advised for children under 3 years old.