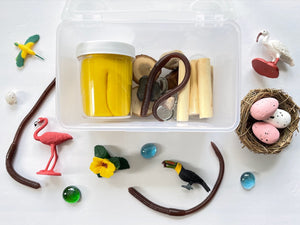 Perfect for a bird lover or a parent or teacher wanting to incorporate some hands-on learning experience. Perfect to pair with a bird book or during/after a trip to a zoo's aviary!  
This kit includes:
5-oz of handcrafted, scented playdough
5 Safari Ltd. Figurines

Birds Nest with Eggs

Nature Items - Rocks, Wood Slices, Logs, etc

Worms
Special Instructions:
Store playdough in a cool, dark place for months of enjoyment!

If the playdough starts to form salt crystals or dry out, simply knead in a few drops of water or vegetable oil.
Play with often for the softest, longest-lasting dough!
Kits may vary slightly in colour and selection and may not always exactly match the picture.
Due to choking hazard, this kit is not advised for children under 3 years old.