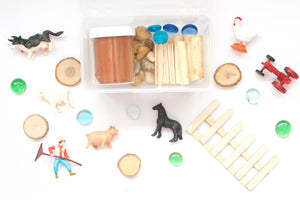 "Just country boys and girls getting down on the farm..." Let them pretend to get messy with this mini kit complete with mud brown, cinnamon scented playdough. All the accessories needed are included for your little farmer to create a true-to-life small world or story scene. Open-ended play is the perfect way to build creativity!
This kit includes:
5oz of handcrafted, scented playdough
1 farmer figurine
5 Safari Ltd farm animals + 1 Safari farm piece (tractor/wagon, barn, hay bale, etc)
1 Picket fence
Assorted accessories - rocks, trees, wood slices, gems, etc.
Special Instructions:
Store playdough in a cool dry place for months of fun!

If the playdough starts to form salt crystals or dry out, simply knead in a few drops of water or vegetable oil. 
Play with often for the softest, longest-lasting dough!
Kits may vary slightly in colour and selection and may not always exactly match the picture. 
Due to choking hazard, this kit is not advised for children under 3 years old.