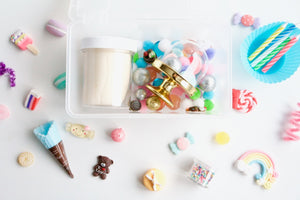 This whimsical mini kit has a beautifully scented ball of cake batter dough and accessories that will help your child create one of their favourite places. A candy and sweet shop! 

This kit includes:
5-oz of handcrafted, scented playdough
Candy tray, mini jar of faux sprinkles, and ice cream cone

Assorted candies and sweets, cupcake mould and candle
Assorted loose sensory items for creative play
Special Instructions:
Store  playdough in a cool, dark place for months of play!
If the playdough starts to form salt crystals or dry out, simply knead in a few drops of water or vegetable oil. 
Play with often for the softest, longest-lasting dough! 
Kits may vary slightly in colour and selection and may not always exactly match the picture. 
Due to choking hazard, this kit is not advised for children under 3 years old.