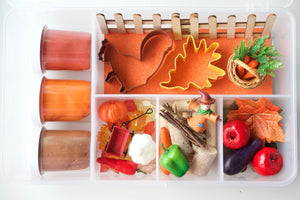 You can almost smells the smokey fire and feel the crunchy leaves when creating this Autumn themed garden. Open-ended toys are the perfect way to build creativity!
This kit includes:
3 jars (15-oz) of handcrafted, scented playdough (cinnamon, apple & caramel)
Fences, leaf and acorn acrylics, basket of carrots

2 Autumn Dough Cutter 

Scarecrow, Wagon and lots of vegetables

Assorted accessories - rocks, wood pieces, leaves, etc. 
Special Instructions:
Store playdough in a cool, dark place for months of enjoyment!
If the playdough starts to form salt crystals or dry out, simply knead in a few drops of water or vegetable oil.
Play with often for the softest, longest-lasting dough!
Kits may vary slightly in colour and selection and may not always exactly match the picture.
Due to choking hazard, this kit is not advised for children under 3 years old.